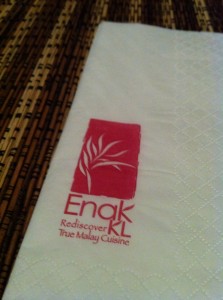 Enak KL是一家位于Starhill的马来餐馆
卖的是精致的传统马来料理。
这家餐厅也连续几年都入围了Time Out KL最佳马来料理
为了避开开斋的人潮,选了上周六到了这家餐厅用午餐。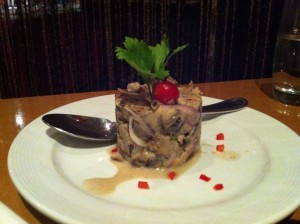 Kerabu Jantung Pisang – rm 15
banana balsam salad tossed in a creamy coconut milk base sprinkled with thin slices of fiery chili and a dash of pepper.
香蕉花沙拉
之前有吃过香蕉花煮成的咖哩,但是这次换成沙拉比较没办法接受。
香蕉花的纤维很粗糙,搭配椰奶。实在是不敢恭维。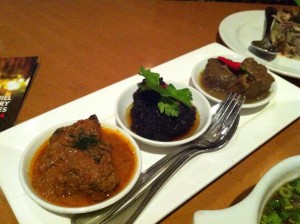 Enak KL's beef tasting menu – rm 36
The rich flavors Daging Kurma, Daging Hitam & Rendang Padang.
三种不同口味的牛肉拼成的拼盘,每份有两块牛肉
对这道菜印象不深刻,三种口味的味道不明显,牛肉也煮得偏老,好硬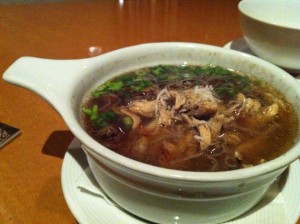 Soto Madura – rm 18
a lightly spiced soup with shredded chicken and cubes of pressed rice. Complemented by pergedel ubi kentang and sliced spring onion.
马来汤品,浓郁的香料味道,里面还有马铃薯丸和类似kutupat的饭,
搭配鸡肉丝,味道蛮不错的。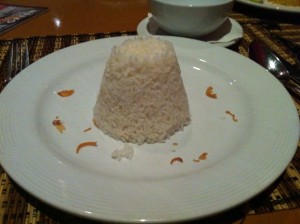 Nasi Putih – rm 5
Fragrant white rice steamed to perfection
蒸得刚刚好的白饭,粒粒分明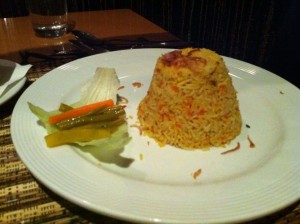 Nasi Enak – rm 7
a daily special..a savory rice cooked with herbs and spices
自家的香料饭,好吃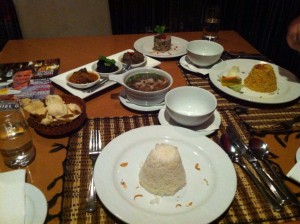 这样简单的一顿不怎么好吃的午餐。
Enak Kl
LG2, Feast Floor, Starhill Gallery,
188, Jalan Bukit Bintang, KL
03-2141 8973
http://www.enakkl.com